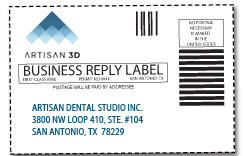 Artisan 3D knows how busy you are. We want to make your experience a great one with Artisan 3D,  If you are in need of a mailing label please use the form below and we will send you a printable label.
Have Questions? Call or email us today!!
(210) 276-0042 | (210) 276-0043 | jenny@primel.sg-host.com

Artisan 3D - Mailing Shipping Label
In order to receive your mailing shipping label, you must have a valid email address. Thank you!